Curls have an attractive look for any hair, regardless of length or color. However, the heat which you have when you use curling irons every time, causing irreparable harm to the hair. Fortunately, there are several effective methods to curl your hair without the use of costly, harmful and expensive equipment. Learn how to make elastic, voluminous, natural curls or a classic through straightforward and inexpensive methods.
Is there a girl in the world, who would not want the perfect wavy hair? If nature has not endowed you have curly hair, there are many ways to twist them. In your opinion, if you want to be one of the most beautiful women in the world, you'll need to spend so many time. Or you must waste much money in beauty salons. Of course, this is not true, and I know what I'm talking.
I propose to look at a few ways to have curly hair without heat twist. Let us consider ways that do not require too much effort. Curly hair without heat can be achieved by leaving overnight. I suggest ways that will not interfere with your sleep.
Nowadays there are a lot of special products to help you get great curls without heat. But its advantage is minuscule, as from hair curlers or curling irons.
Method 1: T-shirt for elastic curls
As a substitute for hair curlers can be a piece of tissue, which cut into thin (about 1 cm wide) tape. You need to wound the hair on them as on the curlers. The effect is similar but much easier to sleep:).
1.    As usual, you should wash your hair and use conditioner. Gently comb the hair and dry with a soft towel. Do not use serum or leave-in conditioner.
2.    Cut the T-shirt into long strips. Start from the neck and work your way down. Cut as many strips as possible. The sleeves will not be necessary since they are too short.
The width of the stripes depends on what kind of curls you want. For small curls make strips 2.5 cm for large, free curls up to 7.5 cm.
If you do not have an old T-shirt, you can take socks, dish towels or other similar items, suitable even a paper bag. The main thing is to make sure that the length of each strip a few centimeters longer than your hair.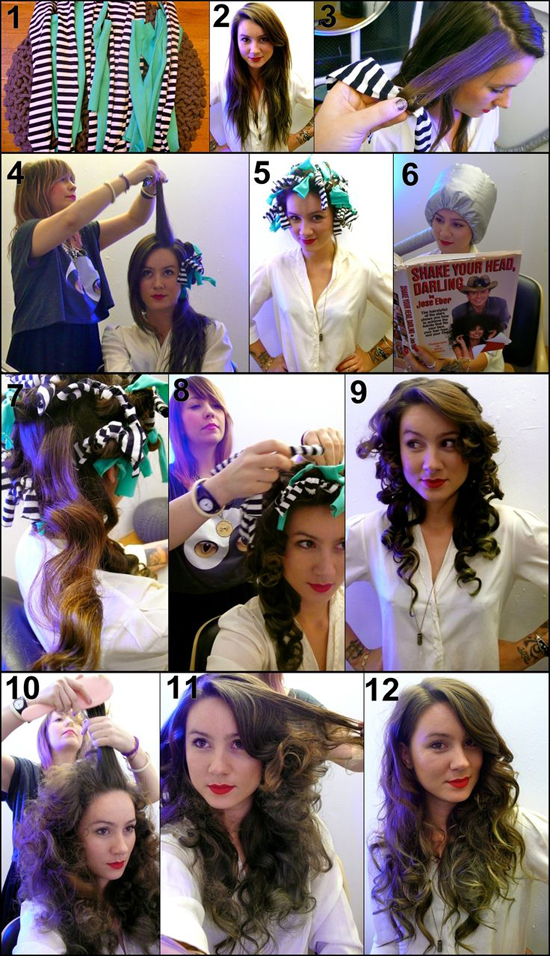 3.    Twist your hair. Use a comb to divide the hair into small sections. Place the strip along the tips of the hair and twist them towards the roots, without changing the position of the strip. Then tie the ends of the strips to secure the twisted hair in place.
If you want to curl only the ends, tighten and tie to the middle of the strip at the point where you left off
You should stretch the hair inside to curls was crimped to the neck
4.    Allow hair to dry. Wait a few hours or go to bed with twisted hair. When the hair is dry, you untie the strips and shook your hair free. If you want your curls are elastic, you touch your hair as gently as possible. To make loose curls, you need to go through the hair comb with wide teeth to separate the strands and to make them wavy
Also, you can use paper instead of cloth strips, as you prefer! How to make curls in this way, see this video:
Method 2: The node of the sock to create volume curls
1.    You need a clean sock. Cut part for fingers to get some tube. Roll up the hose as a donut. The hair must be dry. Take your hair into a ponytail at both sides and secure with an elastic band for hair. Then lightly sprinkle tail using a spray for hair to ensure the wave
2.    Put on the sock. Pass the end of the tail through the sock, and gather the hair around the nose, hiding the ends inward. Move to the head and twist the hair around the sock while sheaf of hair snaps into place.
3.    Leave the bunch of hair at night. Remove after 6-8 hours, lightly run your hand through the hair to make the curls
Method 3: Headband for classical curls

Beautiful curls without curling irons can be done using an elastic headband for the Greek hairstyles.
1.    As usual, wash your hair and use conditioner. If you have recently washed hair, then you can wet and dry it using a towel.
2.    Wrap your hair using the headband.  Use an elastic fabric for headband which will cover the whole head to remove hair from her face. Divide the hair into sections and wrap each of them under the headband, using a bobby-pin to secure the hair. Continue to move all hair under a headband
3.    Allow hair to dry. You can go to sleep with a headband, while your hair is completely dry. If time is short, use a hair dryer with cold air.
4.    Remove the bandage, do not forget to remove bobby-pin and shake the curls. Secure the result mousse or hairspray.
Method 4: Fast curly hair without heat
1.    Dampen your hair. If they are not dirty, there is no need to wash them.
2.    Carefully comb hair.
3.    Divide the hair into two parts. Tighten both sides of the hair very tight.
4.    Leave it for the night, let dry.
Method 5: Braids for natural waves
1.    As usual, wash your hair and use conditioner. Gently comb the hair and dry with a towel.
2.    Make a parting in the middle, and divide the hair into two parts, each of which is tightly braided and secure at the end of an elastic band for hair
To look more natural, we say about curls natural hair without heat slightly loosens your braids with your fingers
To curls looked more freely, you should make a braid, instead of two.
For springy curls make 3 or 4 twists.
3.    Allow hair to dry. Wait a few hours or go to bed.
4.    Shake the curls to give the hair a natural look
Also, you could gather up your hair into a bun overnight that will not interfere with sleep and in the morning you will have a beautiful wavy hair without curling irons.

READ ALSO: What are superfast and cute women's everyday hairstyles?
Here you can familiarize yourself with how to make curly hair without heat in 5 mins:
Here are a few schemes of how to make excellent curly hair without heat or curlers: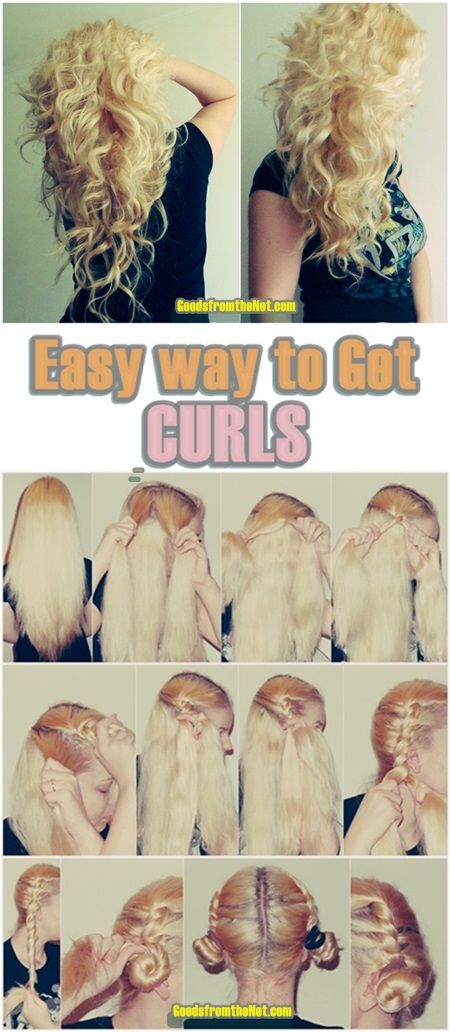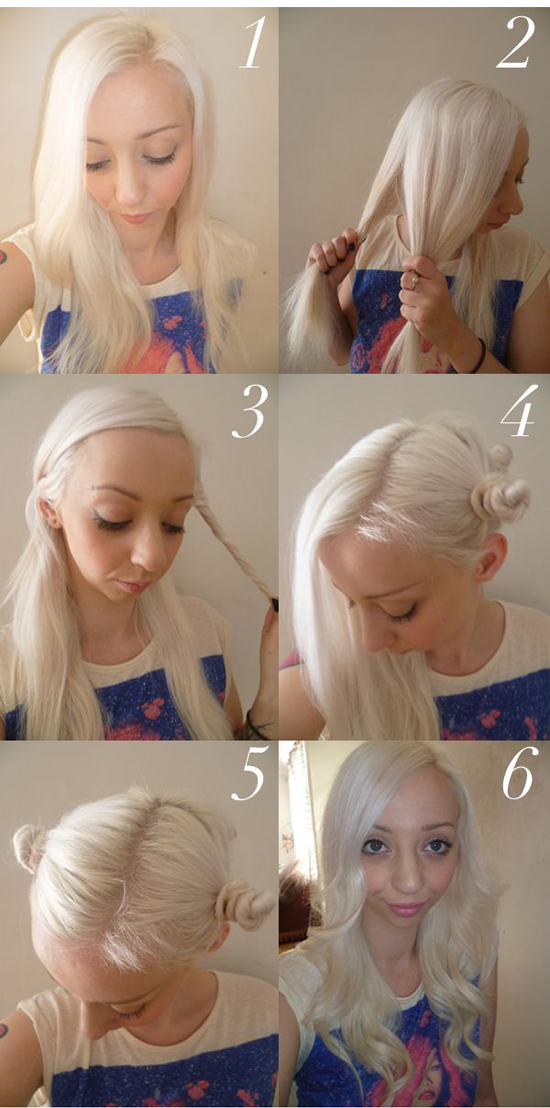 Advices
Do not brush your hair after styling. Curls will be divided, and hair will look unkempt. Just slide a hand through his hair
Be patient! Wait at least 6 hours before removing the devices for curls
Create braids so tight or weak, as much as you want to have lush curls
If you have a lot of hair, you should make six braids, then turn them at three twists and only then at one
If you find it difficult to understand from the photos, how to make curls without curling irons, look here's the video:
I hope that after this article, you will no longer have the question of how to get curls without curling irons and you will always surprise others with luxurious curls.